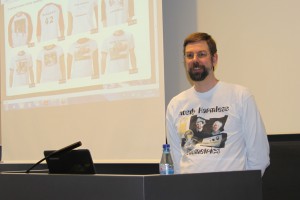 Prof. Steve Pischke gave the 2010 BeNA Lecture Series on "Topics in Regression Analysis". It took place on February 22-23 at the Humboldt-Universität zu Berlin.
Steve Pischke is Professor of Economics at the London School of Economics (LSE). He is Research Associate at the Centre for Economic Performance, and Research Fellow at the Centre for Economic Policy Research and at the Institute for the Study of Labor. He is also one of the Editors of The Economic Journal. Prof. Pischke has published widely, among others in Quarterly Journal of Economics, European Economic Review, Economics Letters, Journal of Labor Economics, Economic Journal and Journal of Political Economy.
See the flyer for more information.
Pictures