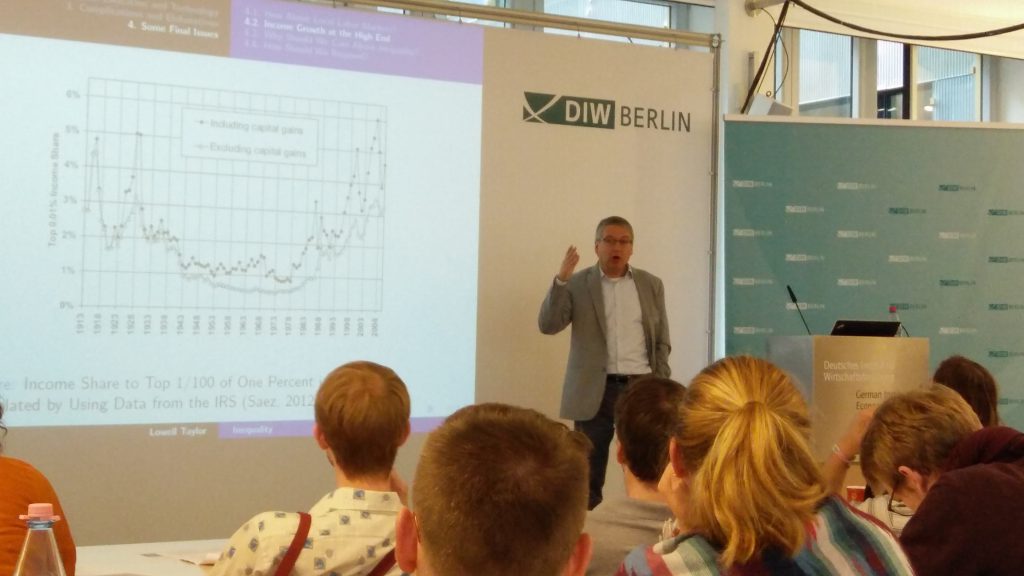 About 60 doctoral students, postdocs and professors participated in the
2017 BeNA Lecture Series
with
Professor Lowell J. Taylor, PhD
(Canergie Mellon University) on "
The Labor Market Effects of Immigration
" that took place at the DIW Berlin on October 19-20, 2017. See the
flyer
for additional information.
Lowell J. Taylor is H. John Heinz III Professor of Economics at the Heinz College at Carnegie Mellon University. He is also a Senior Fellow at NORC at the University of Chicago, Research Associate at the NBER Labor Studies, and IZA Research Fellow. Among other former appointments, he previously served as a Senior Economist with President Clinton's Council of Economic Advisors and was a Visiting Professor at the University of California, Berkeley. Professor Taylor's research interests include labor markets, demography, health economics, and incentives in organizations. He has published in numerous leading journals, such as American Economic Review, Economic Journal, Quarterly Journal of Economics, and Review of Economics and Statistics.
Besides being a distinguished researcher, Lowell Taylor is also an excellent teacher. He won the top teaching award at Heinz College three times.