The next BeNA Labor Economics workshop takes place on November 18, 2019 at DIW Berlin.

The one-day BeNA Labor Economics workshop provides young labor economists the chance to present and discuss their current research. It constitutes a forum to meet and exchange with fellow doctoral students, post-docs and professors from the field of labor economics. We are happy to announce that Ines Helm (Stockholm University) and Matthias Westphal (Technical University of Dortmund) will give keynote speeches and provide valuable feedback throughout.
The workshop will take place in the friendly atmosphere of the DIW Berlin (German Institute for Economic Research) on November 18, 2019, Francine Blau Room, 3.3.002. If you would like to attend the workshop without presenting, kindly register using the e-mail workshop@labor-research.net.
Please find the updated final programme here.
Programme BeNA Winterworkshop 2019
______________________________________
Keep up to date by subscribing to our newsletter.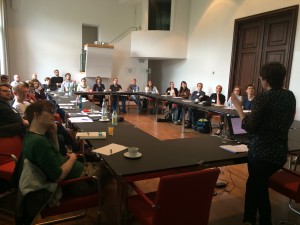 BeNA's one-day workshops give talented young researchers the opportunity to present and discuss their research and to study new developments in labor economics and related fields. It is open to young labor market researchers (PhD students and post-docs) from Potsdam and Berlin. Interested students can also attend the workshop without presenting their own work. The workshops feature a combination of presentations and invited talks to facilitate exchange between junior and senior researchers.
For further information browse the Workshop Archive.