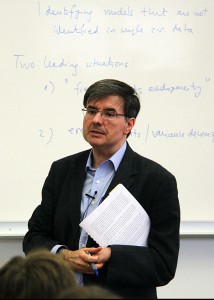 On April 07/08 2011, Prof. Manuel Arellano gave the 2011 BeNA lecture series on "Panel Data Econometrics: Established Methods and Challenges" at Humboldt-Universität zu Berlin.
Manuel Arellano is Professor at CEMFI in Madrid where he teaches graduate courses in econometrics. He previously taught at the University of Oxford and the London School of Economics. He received his undergraduate degree from the University of Barcelona and his PhD from LSE. His research has focused on panel data analysis, micro-econometrics, and labor economics. He is Vice-President of the European Economic Association and a Fellow of the Econometric Society. Prof. Arellano has published widely in Econometrica, the Journal of Econometrics, The Economic Journal and The Review of Economic Studies, among others. He is also the author of the book "Panel Data Econometrics" (Oxford University Press 2003).

The course provided the participants with an overview of topics in panel estimation methods. See the flyer for more information.
The event was a great success with about 90 participants from Berlin (students, PhD-students, and Post-Docs), Germany and abroad.
Pictures