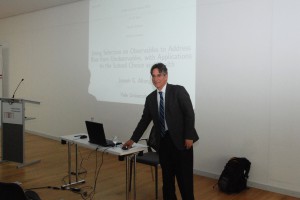 Prof. Joseph Altonji (Yale University) gave the 2012 BeNA Lecture Series on "Dealing with Selection on Unobservables". It took place on April 23 -24 at the Hertie School of Governance.
Prof. Altonji has published on a wide range of topics in top journals such as Quarterly Journal of Economics, Journal of Political Economy, American Economic Review, Econometrica, Review of Economic Studies, Journal of Labour Economics, and Journal of Human Resources. Since 2010 he is an elected member of the American Academy of Arts and Sciences. The lectures provided an in-depth insight into an econometric method developed to deal with selection bias on unobservables in the absence of good instruments. The key reference is J. Altonji, T. Elder, C. Taber (2005): "Selection on Observed and Unobserved Variables: Assessing the Effectiveness of Catholic Schools", JPE 113(1), pp. 151-184.
For more information see the flyer.
The event was a great success and attracted over 70 participants from Berlin (DIW, HU, FU, WZB, TU), Germany (ifo, IAB, RWI, Uni Bonn, Uni Frankfurt) and abroad (Canada, England, Holland, Italy, Poland).
Pictures